Smart Locker
For contactless borrowing, Sharjah Public Library members can reserve books through the online catalog in advance and pick them up from the smart locker at any convenient time using their Emirates ID. The books ordered through the Smart Locker will be reserved for three days and can be collected any time during this period. The Smart Locker service uses radio-frequency identification (RFID) technology that allows members to use their Emirates ID or SPL's membership cards to collect and return books. SPL's Smart Locker consists of 38 lockers equipped with a touch screen that are connected to SPL's digital network and CCTVs.
Using the reservation and self-borrowing service:
1. Browse our online catalog for the titles you wish to borrow https://Catalog.shjlib.gov.ae then click the title to open its page and click "place hold" from the left side menu.
2. When your books are ready for pick up, you will receive an email from the library.
3. Head to the room near the library's back gate, click "borrow" on the screen and swipe your membership card or National ID you can also enter the number via the keyboard on the screen.
4. Check the list of titles then click "accept".
5. The allocated locker will automatically open, you can pick up the books and close the locker door.
For more information, kindly contact us on the toll free number 800READ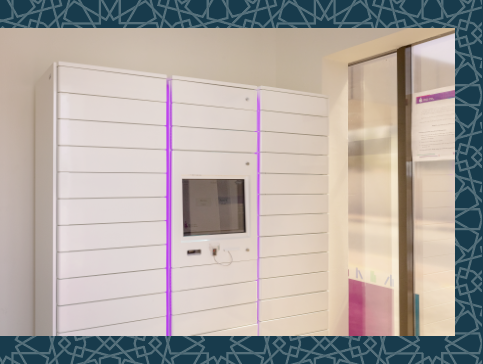 Book Club Area
Authorty's new home in Maliha...